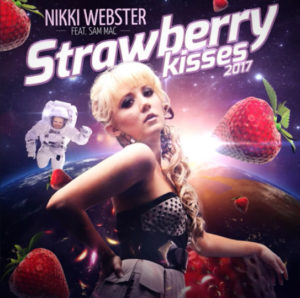 Strawberry Kisses 2017 feat. Sam Mac is now available on iTunes, with all proceeds going to the Starlight Children's Foundation.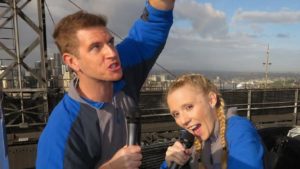 IT'S the comeback no one asked for but everyone was delighted by.



Yesterday morning Nikki Webster sang her 2001 hit song, Strawberry Kisses, live on Channel Seven's Sunrise.



Footage of the performance, which took place on top of the Sydney Harbour Bridge to promote the iconic structure's Karaoke Climb promotion, has since gone viral in Australia with more than 450,000 views.



The 29-year-old's cameo was arranged by Sunrise weatherman Sam Mac, who told news.com.au he credits "divine intervention" for coming up with the idea.



"My producer told me about Bridge Climb Karaoke and said we had the opportunity to take one special guest up," he said.



"For some unknown reason, presumably divine intervention, I saw a vision of Nikki Webster flying over the bridge with me just behind her dropping a nine-second rap sequence."



Sam and Nikki battled through windy conditions and, despite not being able to hear the backing track, managed to deliver a truly stellar performance.



"Some musical collabs are just destiny," Sam said, "like when Jay Z teamed up with Beyonce or Paula Abdul and MC Skat Kat."



The performance was an instant hit online, with Facebook fans suggesting it could be "the comeback of the millennium" and "the best thing to happen so far this year, hands down".



Sam says his phone lit up with messages immediately after the live cross: "My mate Peto texted said it was simultaneously the best and worst thing I've ever done," the Channel Seven star said before adding, "I don't know how to feel about that".



Given the traction the clip has gained online, Sam Mac is adamant that the time is right for Nikki Webster to be thrust back into the spotlight.



"I want to record a slightly updated 2017 version of Strawberry Kisses (featuring a longer rap sequence and unexplained sax solo) and re-release it with Nikki Webster," he said.



"I am 100 per cent serious about this and it needs to claim it's rightful spot in next year's Hottest 100."



Strawberry Kisses peaked at number two on the ARIA singles chart back in 2001 and stayed there for seven weeks.



Webster released the song nine-months after she captured hearts around the world for her performance in the Sydney Olympics opening ceremony.



She's now runs a series of dance schools in NSW and is married with a three-year-old daughter called Skylah.
Source: news.com.au
Australia's own sweetheart, Nikki Webster, is kicking off 2016 by opening a new performing arts studio in Minchinbury.
The Strawberry Kisses singer first captured Australians' hearts when she was cast as the main performer at the Sydney 2000 Olympics opening ceremony.
Since then Webster has opened Dance @ Nikki Webster studios in Leichhardt and on the Central Coast, which have been very successful. She promises the Minchinbury location is set to be even better.
Webster told The Standard her team had been on the hunt for a new studio for a while.
"We were on the hunt for a while for this space; we wanted to see what we could bring to the area," she said.
"There is so much talent out in western Sydney and we want to use our expertise to help these kids."
The Minchinbury studio is a joint venture between Nikki and her brother, Scott, who is also from a performing arts background.
"We are a family-run business and the Minchinbury area is very family orientated with great families and great kids … we were so excited­ about finding the space and working with the kids out west," Webster said.
The studio will have classes for children aged from 18 months up to 17 and will teach a range of dance styles from ballet to hip-hop.
"I will be teaching singing while my brother teaches all styles of dance, from jazz, hip-hop, and contemporary. We will also teach acrobatics, cheerleading musical theatre," Webster said.
The Minchinbury studio will be holding a free open day at 8.30am on Saturday at 16/42 Sterling Rd, Minchinbury.
"People can come and meet us, see the studio and have a chat," Ms Webster said.
"We will have tasters of each dance style … children can try if they are unsure.
"We have had quite a few people sign up already which is very flattering; we love the space and we are very excited. … we have lots of plans and we just want to get started."